Come back
What is Project-Based Learning?
Author: dtptrungthong
Ngày đăng: 26/10/2022
Project-based learning – Project-based learning is a student-centered learning method that directs students to acquire knowledge and skills through embarking on a specific project to solve a problem. . Students will go through a process of discovery and discovery to solve a challenging project that requires thinking.
The salient features of project-based learning include:
Acquire important academic content
Practice and develop 21st century skills (such as teamwork, communication and critical thinking)
Develop public speaking skills, and the ability to work in groups
Help students gain and apply academic knowledge and soft skills to solve a real-world problem or
answer an open-ended question
Thus, the project-based learning method is one of the comprehensive learning methods that helps students not only gain foundational knowledge and skills, but also helps students develop comprehensively the necessary skills in learning. modern society. Project-based learning emphasizes the process of finding answers with no restrictions on how and what they should look like, thereby encouraging students to find answers in a variety of ways. In addition, teachers will accompany students throughout the project to help them realize their strengths and areas for improvement, thereby helping them develop their capabilities.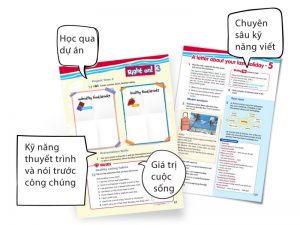 Immediately refer to 2 titles of English Textbook 2 Extra & Friends and English 6 Right on! There is an application of the Project-Based Learning method at the following link:
Source: Tập đoàn Giáo dục Đại Trường Phát