Come back
Importance of cross-cultural understanding in language teaching
Author: dtptrungthong
Ngày đăng: 26/10/2022
Nowadays, English is used in almost every area of life. Therefore, teaching English in the era of globalization is not only about language knowledge such as vocabulary, sentence structure and grammar, or skills of listening, speaking, reading and writing, but also towards training. ability to communicate effectively, especially the ability to communicate in different cultures. Understanding these cultural factors helps teachers and learners acquire foreign languages effectively by the meaning of the language. word, the dialogue content of any language can change according to the context.
Lack of cultural understanding can also cause "culture conflict" or "cultural shock". Most learners often impose their native culture in their foreign language learning. For example, familiarization questions such as: "Are you married?"; "How old are you?"; "How many children do you have?"; "How much money do you earn?"… Questions that seem to want to show interest in Vietnamese culture are generally invisible curiosity that should not be used in British American culture.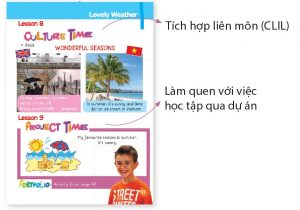 Therefore, building a foundation of language and behavioral skills in a multicultural context is very necessary to equip children from an early age, so that they can develop comprehensively and become successful. future global population. Equip children from an early age to realize that it is necessary to respect the differences of others and keep the good values of their homeland, family and personal identity.
Learn more about English titles such as i-Learn Smart Start and i-Learn Smart World that provide children with knowledge about Vietnamese culture as well as understand more about cultures around the world:
English
 1&2 i-Learn Smart Start: 
https://youtu.be/bsOGjBEuahM
English
 6 i-Learn Smart World: 
https://youtu.be/ZReUboD6n54
Source: Tập đoàn Giáo dục Đại Trường Phát